The desire to fully understand floor plans and construction docs has always been critical to a successful project, and the ability to convey realistic images and 3D rendering in architecture and home building has been growing exponentially, especially the last couple of years.
Companies like Create Design Build, Create Interior Design and Create Real Estate, are consistently researching technology and investing in multiple sources to convey exterior and interior images and home floor plans including 2D, 3D floorplans, and 3D rendering.
Here are some important considerations when deciding to make the investment in 3D for your new construction or remodeling project, or when buying or selling a home.
Homeowners say they appreciate that they can see what they are paying for with 3D Home Plans
We all want to see what we are paying for.  Right?  Especially when investing in something as important as building or purchasing a home.  Sketches, drawings, and floorplans are important ways to communicate vision and ideas, and are necessary in construction.  For those who have a hard time visualizing, or those who want to see an even greater level of detail and experience, 3D home plans and renderings are a great option and certainly worth the added value.
With 3D home plans and renders, customers can see what they are paying for, and can base their purchasing decision on highly detailed visual drawings and photo realistic images.  3D renders sometimes are so realistic, clients wonder whether it's a photo or a 3D rendering they are looking at.
The 3D Geometry In Home Rendering Is Realistic
With housing, certainly in architecture, construction, and real estate, it just makes sense to consider 3D home plans and rendering.
Why?  With 3D we see geometry, not just lines.  Sketches and drawings do not show any geometry capability. In the past, the only thing able to mimic 3D rendering was a 3D model made by hand.  Imagine how tedious and consuming it is to build one, and not very practical these days.
3D plans and rendering also take time, but are so much more practical, and more importantly editable, and 3D plans and renderings have amazing geometry capability.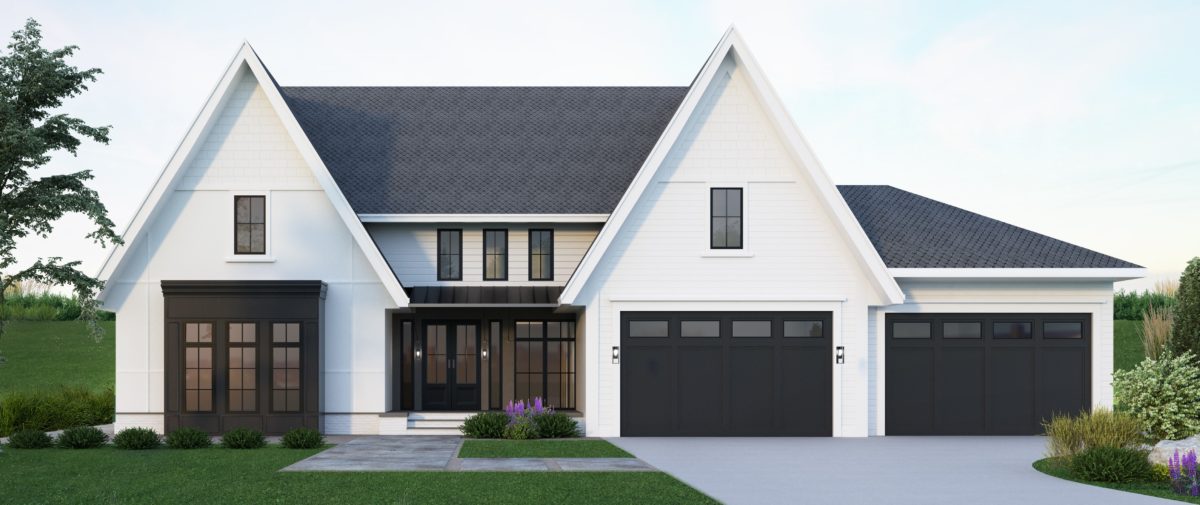 This type of illustration expands the boundaries of traditional plans and adds more value, becoming incredibly useful in new home building, remodeling, and real estate.
3D Home Rendering is Immersive
2D media, like floorplans and CAD, are valuable and necessary, but have limits when it comes to capturing 100% of the home building experience.  3D home plans and renderings are fully immersible.
If you are thinking about hiring someone to build your home, are you choosing your architect, customer home builder, or home designer based solely on drawings and sketches or CAD drawings?
What if they could do more?  Imagine if you could be immersed into your home design and could walk around room by room or see your home rotate in front of you.  These are important considerations when choosing which architect, custom home builder, and designer are right for you and the design of your home.
Thanks to 3D plans and rendering clients can take virtual walkthroughs and experience homes firsthand, even before the project is started or an Agreement is signed.
3D Home Rendering Offers Fewer Surprises and Greater Satisfaction
When looking at a floorplan can you visualize what you are purchasing?  With home building that's so important.  Looking at construction documents and floor plans can be confusing and difficult for some home owners to visualize their home and how it will look when completed.
The use of 3D uses 3D renders to depict room measurements and volume, as they appear in a completed home.  With that added detail in architectural rendering services, clients have an opportunity to engage with their drawing and discuss with their builder to make necessary changes prior to construction, and as a result, those builders who use 3D have a high level of customer satisfaction.
3D Rendering Saves You Time And Money In The Long Run
When you look at all the features, It's clear why home builders who use 3D rendering are sought highly sought after.  They bring numerous benefits to the home building process.
3D plans and rendering can seem like a bigger investment up front, however you'll find builders who offer 3D, show much higher detail in their visual representation, providing client's peace of mind, and perhaps most important, 3D plans and rendering give greater clarity and save time and money in the long run.